Plumbing Solutions for
Agriculture and Irrigation Applications
Browse Products
Booth#: 2306
JUN 11 - 14, 2018
Las Vegas, NV USA
Need More Information?
Contact Us today to learn more about our Agriculture solutions!
Contact Me
ANKA® Series
The ANKA Series farm-tough line includes high quality glass-filled nylon pipe fittings, quick connect fittings, and an array of fittings for high pressure agricultural and horticultural applications.
Download Our Brochure
Apex® Series
APEX® Series plumbing control and tank and trough valves are designed for use in the agriculture, irrigation, and rainwater harvesting industries. These farm- and ranch-tough valves are easy to operate, fully serviceable, and UV balanced to prevent damage from ultraviolet rays. Recognized for their high quality, they are used around the world.
Download Our Brochure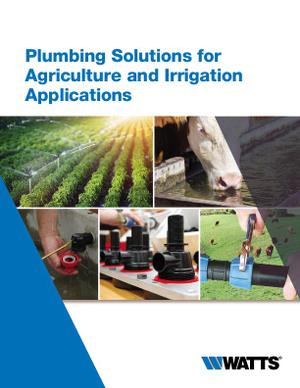 Product Brochure
Detailed specifications of our entire line of quality Plumbing Solutions for Agriculture and Irrigation Applications.
Download