What's New - Check out our latest featured products and more!
Home >
N170-M3 New Generation of Master Tempering Valves
Watts New Generation of Master Tempering Valves
Series N170 master tempering valves thermostatically blend hot and cold water ensuring safe delivery throughout hot water distribution systems in commercial, institutional and industrial facilities. Five brand new models (3/4 to 2 inch) are designed to meet a broad range of capacity and budget requirements.
The N170 is listed to ASSE 1017 and replaces the current Series N170-M2. The N170 has also earned CSA B125.3 compliance through IAPMO and carries the cUPC seal.
Although the N170 has been re-engineered inside and out, it maintains the exact rough-in dimensions of its Series M2 predecessor, making direct replacement trouble-free. The Series M3 is also offered with checkstops (with filters) for new installations.
Features:
ASSE 1017 listing and CSA B125.3 compliance ensure safe, consistent
performance over time.
Broader temperature range eliminates the need for low temperature
models. The M3 series operates safely over a range of 90 - 180°F (32 - 82°C)
Vastly improved low flow control (as low as 3.0 gpm) for applications
where minimum flow performance is critical.
Approach temperature (hot water inlet – mixed outlet) of 5°F (2.8°C)
provides maximum mixed outlet temperature for installations where
hot water is generated at lower temperatures.
Now offered with check stops and integrated filters for new
installations as well as without for retrofit installations.
Engineered from the Inside for Superior Performance and Reliability
Multi-Directional Mounting
The new Series N170 features multi-directional mounting which allows it to be mounted as shown without affecting performance. This provides greater installation options for new projects. Rotatable, union checkstops (optional) can be rotated 360º as well.
More Information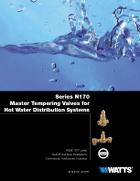 Product Brochure
Click here to download the
N170 Product Brochure
Specification Sheets
Installation Instructions
FAQ
Cross Reference Table
Sizing Tool
Size Master Tempering Valves for Hot Water Distribution Systems