Home >
OneFlow® Anti-Scale Systems
OneFlow® Anti-Scale Systems from Watts
Property owners, building managers, and facility engineers fight scale with this improved environmentally-friendly scale prevention solution with next to zero maintenance required. Watts' OneFlow® Anti-Scale Systems prevents scale by converting dissolved hardness minerals into powerless and idle microscopic crystal particles that travel through your plumbing systems without attaching themselves to pipes, fixtures, valves or any other heating elements. Backed up with years of successful field applications, OneFlow® is scientifically tested and certified for excellent performance.
Benefits
Eradicates scale prevention salt and/or chemicals
Lowers de-scaling chemical costs
Decreases downtime and labor price
Enhances operational efficiencies
Extends lifespan for your critical equipment
Reverses any current scale issues
Improves flow rates with upflow design
Features
Almost zero maintenance
No need for salt or chemicals
Environmentally-friendly and efficient "green" technology
Zero backwashing and no discharge
Persistent and reliable scale control performance
Variety of commercial applications
Longlasting media needs no regeneration
Immediate ROI with energy savings
OneFlow® Solutions
OneFlow® models are available in cartridge and tank style units for commercial applications on both cold and hot water lines. Available in sizes to 2 in. (15 to 50mm) and for flow rates between 0.5 to 450 gpm (1.9 to 1703 lpm).
More Information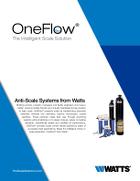 Product Brochure
Click here to download the OneFlow® Product Brochure.
Technical Documentation