What's New - Check out our latest featured products and more!
Home >
Quick-Connect Manifolds
Quick-Connect Manifolds
35 Series Quick Connect Manifold
Watts Sea Tech Manifolds operate much like an electrical breaker box. The main water supply lines bring water into the manifold and individual distribution lines move water out to each fixture. All outlets have a built in valve which allows you the ability to stop the water flow to any single fixture without shutting down the entire water system. The new Watts Sea Tech Manifold System utilizes an exclusive modular design. Manifold Sections can be purchased individually and simply snapped together to create the ideal configuration for each application.
Performance Ratings
100psi @ 180°F 6.8bar @ 82°C
250psi @ 75°F 17.25bar @ 24°C
Complies with NSF and FDA standards
All Inlets are 1" CTS, use a Reducing Stem to create other inlet sizes
Features
Integral High-Flow Shut-off Valves
Eliminates Fittings
Modular design allows for flexibility
Increase water flow
Servicable Shut-off Valve
Can be used with PEX, CPVC, PB and copper pipe
Field Configurable
Available in single or dual outlet configurations
More Information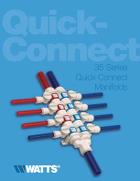 Product Brochure
Click here to download the Quick-Connect Manifolds Product brochure.