Comfort and Efficiency with RoomResponse™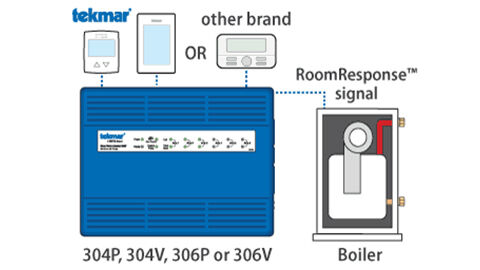 During milder conditions and times when heat is added through indoor activity, appliance operation, and solar gain, the RoomResponse™ signal requests a lower boiler temperature to use less energy. Controlling the boiler temperature also enhances comfort through reduced temperature swings. Traditional systems that combine on/off control with high boiler temperatures miss out on these benefits.
Save with ANY Thermostat
By factoring in how long and how often connected thermostats call for heat, the Zone Valve Control or Switching Relay determines if the boiler temperature is too low, too high, or ideal. This allows you to save energy with any brand of low voltage thermostat.
Save More on Vacation
Pair zoning controls with tekmar WiFi Thermostats 561 or 562 and put the entire system into away mode with one touch. Thermostats 518 and 519 can also receive an away signal from the tekmar zone valve control or switching relay.
DoE Compliant Solution
Zone valve controls and switching relays with a RoomResponse™ signal eliminate the need for an outdoor sensor, saving installation time.
Satisfied Customers
Service calls are in the past. Since the system automatically adjusts the boiler based on heat demand, you never have to worry about seasonal changes to boiler curves.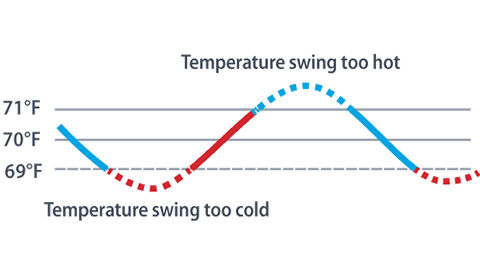 Traditional On/Off Flow Control
In traditional systems, when any zone calls for heat the boiler runs at a maximum temperature until all zones reach their thermostat setting. A high operating temperature results in temperature swings, increased cycling, and reduced efficiency.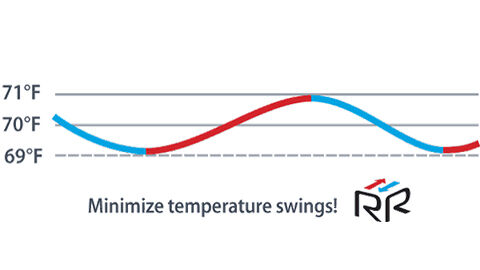 Systems Using RoomResponse™ Signal (Temperature & Flow)
When any zone calls for heat the boiler runs at the lowest temperature required. Lower boiler temperatures reduce distribution losses while improving boiler efficiency and reducing temperature swings. Longer boiler on-times reduce cycling to increase equipment longevity.
Zoning Solutions with RoomResponse signal
Zone Valve Controls 304V & 306V (4 or 6 Zone Valves)
Switching Relays 304P & 306P (4 or 6 Zone Pumps)
Compatibility:
Connect ANY brand of low voltage thermostat
End switch for use with any type of on/off boiler or heat pump
RoomResponse™ feature works with boilers that accept 0-10 V (dc) or 4-20 mA temperature signals
2, 3, and 4-wire zone valves (304V & 306V)
Features:
Accessible wiring enclosure with top, bottom and back knockouts
Simple connection for unlimited zone expansion
Priority, priority override, exercising, post purge
Domestic hot water options
Built-in transformers (40VA for 304V, 304P & 306P, 80VA for 306V)
Front LED indication lights
Fuses to protect transformers and pumps