Lithium Battery Shipping Information
Disclaimer – These instructions assume the shipment will contain only tekmar products or other manufacturer's products which DO NOT contain lithium batteries. If your shipment will contain products with lithium batteries from another manufacturer you MUST contact your freight company to determine the appropriate packing and shipping procedures.
tekmar's Wireless Outdoor Sensor 087 is packaged with 2 AA lithium cells (batteries) which require additional labeling and declaration for shipping.
In order to comply with IATA UN 3091 Packing Instruction 969, Section II, the following is required:
Use shipping material with strong rigid outer packaging. Try to pack all the 087s in one shipping box, or in as few as are required.
Print labels using a color printer (Red hash marks are REQUIRED).
Affix IATA Lithium Battery Label (Fig. A) & Additional Documentation Label (Fig. B) labels to any shipping box containing 087s. Affix using labels, clear packing tape or a clear documentation pouch.
Include the following statement in Air Waybill or BOL – 'Lithium metal batteries in compliance with IATA UN 3091 PI 969, Section II'.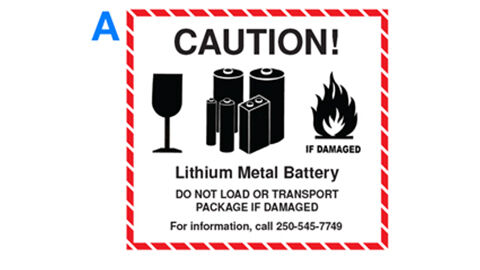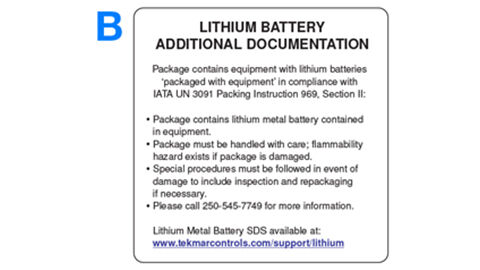 Please contact your freight carrier if you have any questions. You can also visit the following for more information: