Upgrading the 370 or 371 House Control Systems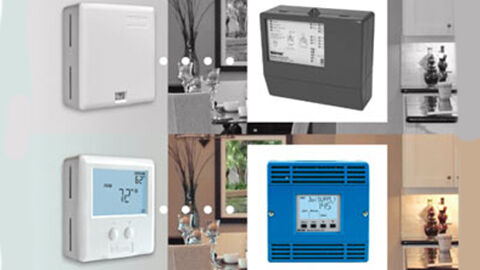 The 370 and 371 house controls are no longer available for purchase; however, if your customer has either of these controls, rest assured it will continue to be fully supported.
For those customers interested in adding more features and functionality to their existing house control system, we now offer the opportunity to upgrade to our new generation of tekmarNet® house controls & thermostats.
What's the Difference?
Hot water heating systems are designed to supply water hot enough to compensate for home heat loss on the coldest day of the year. For most of the year, this temperature greatly exceeds what is required to maintain comfort.
Both generations of house controls save energy by automatically adjusting the water temperature based on the outdoor temperature, this is called outdoor temperature reset. These controls also adjust water temperatures based on indoor temperature feedback from connected thermostats. This saves even more energy and heating dollars by further reducing water temperatures when additional heat is generated by the sunshine or household activities.
tekmarNet house controls & thermostats offer your customers the same superior control performance as the 370 and 371 house controls but with enhanced features. Features that include easy to read dual room and outdoor temperature displays, air and/or floor temperature control and new functionality such as remote communication.

Seven Reasons to Upgrade:
It's an easy installation and your customers will experience more functionality and better opportunities to save costs and energy.
Owners can reduce costs and save energy with a Timer that automatically lowers room temperatures while they are away or sleeping
They can now view both the indoor and outdoor temperatures on easy to read, backlit thermostats
Cooling control can be added for proper heating & cooling interlock
One-touch adjustment lets the entire heating system easily adapt to the owners changing schedule
Scheduled floor warming lets owners wake up to warm floors in selected areas of their home
Heating of domestic hot water stops when the owner tells the system they're away on vacation

Do Your Customers Have a New High Efficiency Boiler?
tekmarNet house controls are compatible with today's high efficiency boilers to optimize their performance. This is because condensing boilers save more energy while operating at lower temperatures.
When upgrading tekmarNet house controls, consider offering your customers these quality add-ins:

One-Touch Adjustments
With the touch of a button on a tekmarNet user switch, your entire system can switch between occupied, unoccupied, and away temperatures.

Setback Schedules
Savings up to 15% can be gained simply by lowering the temperatures at night and while you're away. Adding a tekmarNet timer to your system is an easy way to save.

Floor Warming
A floor sensor gives your thermostat control over the floor temperature as well as the air temperature. Now you can have warm floors even when the space heating is not needed.

Cooling Control
Add a tekmarNet thermostat 530 to your system to enable cooling by averaging the temperatures in all zones equipped with a tekmarNet thermostat. This also provides proper interlock to prevent simultaneous usage of the heating and cooling systems.