Control Valves Frequently Asked Questions
1. Where are Watts ACV's assembled?
We are proud to note that we assemble our valves in our plant in Woodland, California. We inventory and make available the full line of Watts ACV's in over 30 locations within the United States.
2. What is a dynamic quad seal?
Watts ACV leads the automatic control valve industry by being the first to incorporate the dynamic quad seal. The seat, retained on 3 1/2+ sides, provides positive closure while eliminating the need to "bite" into the seal, adding years to the valve's life. Each quad seal has two usable sides as well as a Class 6 - Bubble tight seal.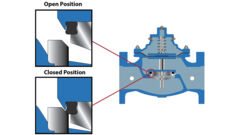 3. What are the benefits of fused epoxy coating?
This coating is applied under rigorous preparation and application standards. It is non-porous, improving the flow coefficiency of the valve and effectively sealing the casting from interaction with the controlled liquid. The coating also protects the valve from environmental attack. The finish prevents mineral buildup and rust, simplifies maintenance, and prolongs the life of the valve.
4. What is the "CV" factor?
The pressure loss for fixed orifice items are identified by the "CV" factor. The symbol "CV" is defined as "a valve constant, characteristic of each type and size of valve". Once the CV factor is established for a particular valve, the pressure loss through that valve or fitting can be calculated by simply knowing the specific gravity of the fluid running through the pipe, the quantity of flow (in gallons per minute) and the CV factor of the valve.
5. Why are the seat and disc guide so critical?
They are the two most critical components in the flow path of the controlled liquid and are provided in Stainless Steel as a standard. This allows the valve to handle those tough applications where excessive velocity, volatile water conditions and even minor cavitation are present.