RainCycle Commercial Rainwater Harvesting
Setting the standard for rainwater harvesting
As the industry leader in developing water sustainability solutions, Watts sets the standard for rainwater harvesting. Our commercial rainwater harvesting systems are used in North America to efficiently capture, store, treat, and deliver non-potable water for a variety of end uses including irrigation, restrooms, laundry, and more. Using only the highest quality components on the market, we create modular systems that can be customized to meet nearly any location and project need.
A Rainwater Harvesting Solution for New England; see the case study:
Product Features:
Efficient water conservation
Modular system design
Straightforward maintenance
Ongoing support from our engineers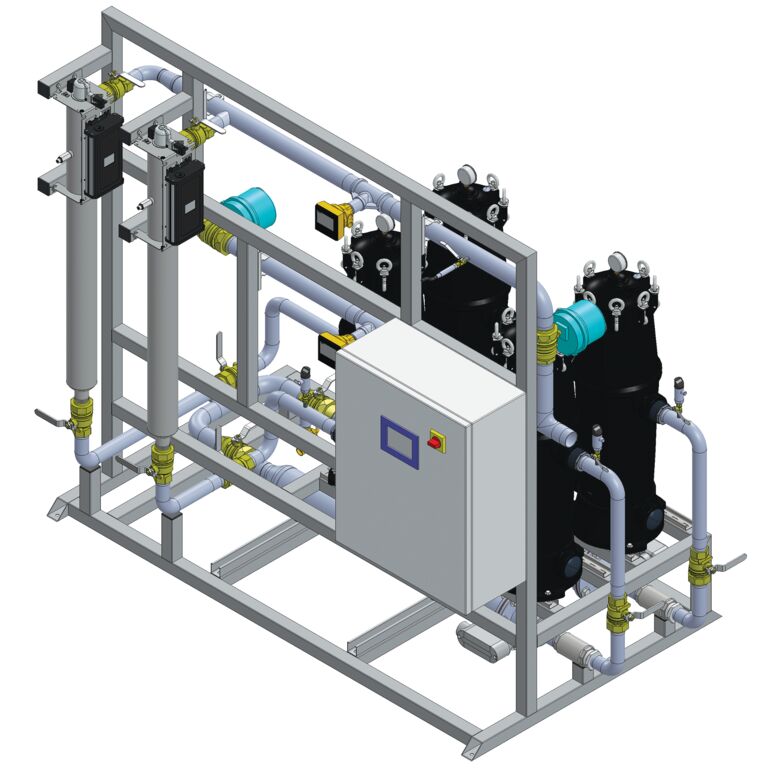 Rainwater Harvesting Systems
RainCycle RCS-7000 series packages are stand-alone building scale systems for collecting, storing, and treating roof-collected rainwater for non-potable end uses. These PLC controlled systems make it easy to monitor performance from a central location.
Standard Features
Filtration rated for up to 80 GPM
304 stainless steel headers, branch piping and frame
2-stage cartridge-type, low maintenance filtration in a non-metallic filter body
Fully controlled, auto-dim UV
Filtration differential pressure monitoring
Tank level monitoring
UL 508A control panel with PLC and 7 in. color touch screen
All alarms with audio/visual display, time-delayed proof of condition, auto-reset and control logging
All components are touch safe regardless of voltage class
RS485, Modbus/BACNet/LonWorks/OPC-UA (native) communications
How they work
Rainwater flowing from a clean roof surface is routed to an inlet pre-filter, then to a cistern
Water is pumped from the cistern through the filtration skid to a buffer tank for temporary storage
Filtered/treated water is distributed from the storage tank to the end use systems
If the water level is too low in the cistern, a bypass valve or motorized makeup valve enables domestic water to flow through to the buffer tank
Series Options
RCS-7100 - Indirect Pumping, Above Grade Cistern, Remote Transfer Pump Download RCS-7100 Specification Sheet
RCS-7200 - Indirect Pumping, Above Grade Cistern, Transfer Pump on Skid Download RCS-7200 Specification Sheet
RCS-7300 - Indirect Pumping, Below Grade Cistern, Submersible Transfer Pump Download RCS-7300 Specification Sheet
RCS-7400 - Direct Pumping, Above Grade Cistern, Remote Pump Download RCS-7400 Specification Sheet
RCS-7500 - Direct Pumping, Below Grade Cistern, Suction Lift Pump Download RCS-7500 Specification Sheet
RCS-7600 - Direct Pumping, Below Grade Cistern, Submersible Pump Download RCS-7600 Specification Sheet
Exclusive RainCycle Features:
A proprietary control algorithm allows the booster pumps to function without a hydropneumatic tank
Field adjustable pipe break detection technology is included in the controller to shutdown pumps during unusually high flow conditions which are indicative of a pipe break
Factory changes require rolling passwords. This allows only authorized users to make factory setting changes
Partner with Watts
With 140+ years of expertise, we provide the support, knowledge, and product selection needed to efficiently harvest rainwater. Our team of experts provides professional consultation and support at every step of the process.
Contact us at (800) 772-1958 or [email protected] to get started.