System Optimization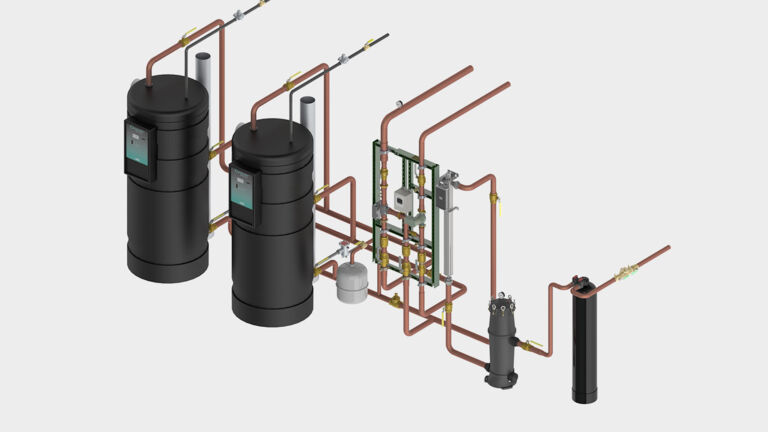 An Optimized System Delivers Bigger Savings
Energy use accounts for one of the biggest portions of a hotel's operating costs. Our dedicated team of engineers has designed state-of-the-art, cost-effective, high efficiency systems for hundreds of hotels across the nation typically reducing energy bills by 30%. We'll also reduce installation costs by creating a tailored, appropriately sized system for your property featuring equipment that's easy to install and service without interruption to your business.
Reducing Operating Costs
The best way to reduce operating costs is to ensure your system is optimized to operate at peak performance. Our durable, high efficiency, high performing products give you the reliability you need to ensure your guests are comfortable and have hot water on demand while maximizing savings. Operating efficiency also means you'll have less unscheduled (and costly) maintenance.
High Efficiency Water Heaters and Boilers
Converting to high efficiency water heaters and boilers provides an average of 30% in energy savings which can translate into thousands of dollars annually.
onAER® Predictive Maintenance*
onAER continuously monitors the overall health of your system providing details on overall performance and efficiency levels so you can prevent issues from developing and ensure units are operating at peak performance. onAER also offers trending capabilities, access to maintenance schedules, and sends alerts on faults with suggested causes and actions.
Digital Mixing Systems
Digital mixing systems increase efficiency and reduce broad temperature swings by precisely controlling water temperature ±2°F (vs. ±7°F of traditional thermostatic mixing valves).
Anti-Scale Systems
Extend the life of your system and prevent scale buildup without the added cost of electricity. Anti-scale systems will improve operational efficiency and help prevent premature failure of your water system.
Lower Installation Costs with a Right-sized System
Too often, systems are over-designed with excess venting, piping and capacity. Our engineers will evaluate your property and create a tailored system that is appropriately sized for your specific requirements. Our right-sized systems will provide the correct sizing for your property's domestic hot water load so you won't waste energy. It will also provide the proper amount of venting and pipes so your installation costs will be reduced and you'll need less space for a mechanical room.
*available on AERCO units only
Case Study
A 5-star hotel on Capitol Hill needed to upgrade its 40-year-old heating system that serviced 838 rooms, a fitness center, pool and sauna. Nine AERCO® Benchmark® 3000's were installed for space heating along with three AERCO SmartPlate® DW113 water heaters for domestic hot water. Return on Investment: 32% reduction in fuel bills within the first six months ($42,000 savings) and 65% decrease in annual maintenance costs – $100,000 in savings!